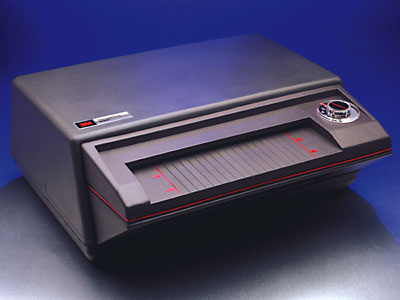 Re-conditioned 3M Transparency Maker
PAPER STENCILS IN 4 SECONDS!
Includes one box of 8-1/2" x 11" transparency paper and a 90-day Warranty.*
Simple Operation
Easy-to-read control lets you dial the correct setting for the sharpest possible imaging of paper stencils.
Easy to Clean
With the flip-top cover, basic cleaning is simple. Periodic cleaning of the belt and roller assembly is necessary for best performance.
Automatic Thermostats
Overheat thermostat de-energizes lamp circuit if machine overheats. Post cool thermostat automatically keeps fan energized until machine has cooled to a safe temperature after use.
Jam Sensor
Automatically de-energizes lamp circuit should inserted material jam in machine.
Safety interlock
Double-poled switch removes all power to the unit if the access cover is raised up.
Compact, Portable, Self-Contained

Just plug it in and it's ready to make paper stencils from your original line drawing.

Physical Specifications: 7 1/2" H, 19 3/4" W, 16 1/2" D, 31.5 lbs USA.
Zinc-plated steel frame with high impact plastic chemistry.
Worldwide Electrical Requirements:
Voltage: 90-125 volts, A.C., 50/60 Hz USA
Current Rating: 12 amperes at 115 volts USA
Power Cord: 3-wire grounded type, 8 feet in length

Complete instructions included. *Machines are re-conditioned and come with a 90 Day Warranty on parts excluding belts, rollers, broken lamps or any damage caused by dropping.

Catalog # 82838
$1400
Price subject to change.
---
Call for availability -

toll free in the U.S.: 1-888-9TATTOO (1-888-982-8866)
toll free in Canada: 1-866-889-2662
or 518-768-2070

or EMAIL us at orders@www.spaulding-rogers.com.